The main businesses of the Chemical Division of Ansteel Group Corporation are the comprehensive utilization and development of coal chemical industry resources, R&D of related chemical business, technology consulting, technology output and manufacturing consignment of chemical products. It has five sets of production equipment which are used to recycle and purify coal gas, 2 sets of tar processing equipment with a sum capacity of 540,000 tons, 1 set of benzene refining unit whose capacity is 150,000 tons, 1 set of new product testing apparatus. Its annual capacity of coal chemical industry products is 0.7 million tons, including more than 60 kinds of products such as coal tar, ammonium sulfate, benzene series, naphthalene series, phenol series, pyridine series, asphalt series, etc. The products are widely used in multiple industries such as electrode, resin, leather, dyestuff, medicine, chemical fertilizer, etc. The number of customers is more than 200, asphalt, carbon black oil and other products are exported to Russia, Korea, Thailand, India and many other countries.
Main equipment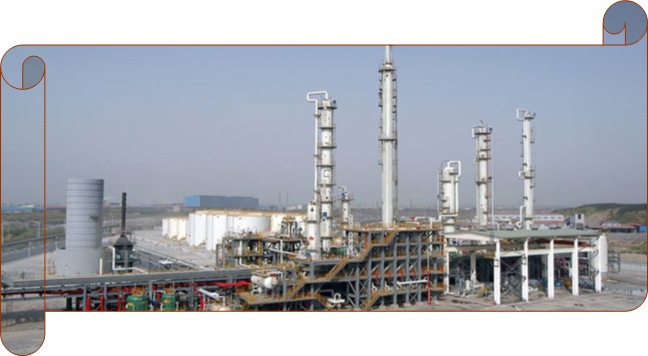 Benzol hydro-refining unit (150,000 tons of capacity): It has the biggest unit capacity in the same domestic equipment, the products are all of high quality, benzene content is more than 99.9%.

Tar processing equipment (300.000 tons of capacity): the technologies of tar distillation, asphalt modifying and asphalt moulding are from LITWIN Company of France.

Coke oven gas desulfurization technology: a. We adopt ZL method and new technologies such as one-tower desulfurization and continuous sulfur melting for desulfurization, the content of thiocyanogen in gas is less than 20mg/m3 after desulfurization, the result is better than other same domestic industries; b. We adopt vacuum potash method for desulfurization and the production leaves little affluent. We adopt Topsoe method on acid-making and produce vitriol which is 98% pure.

Refined naphthalene production: Using refined naphthalene falling film crystallization method from Sulzer of Switzerland, the crystallization point of refined naphthalene products is above 79.8℃,the result of naphthalene sulphuric acid test is less than or equal to 4#, which are of superior quality.
Products and Applications

Asphalt: used to produce graphite electrode, prebaked anode, refractory material and waterproof layer, etc.

Technical Phenol: used to produce phenolic adhesion agent as industrial material.

Ammonium Sulfate: used as fertilizer for agricultural.
Refined Naphthalene: used to produce dye intermediate, leather, wood protectant, ect

Pure Benzene: used as raw material to produce synthetic resin, plastic, synthetic fibre, rubber, detergent, dye, pesticide, medicine and explosive, etc.

Anthracene Oil: used to produce coating, electrode wood preserving oil, pesticide, tanning agent and oil paint.

Carbolineum: used to produce carbon black oil, coating, electrode wood preserving oil, pesticide, tanning agent and oil paint.

Carbon Black Oil: used to produce soot.
Address:Marketing Center of Chemical Division of Ansteel Group Corporation, Ansteel plant area, Tiexi District, Anshan City, Liaoning Province, China.
Contact:Wang Lihong
Tel:+86 4126734004
E-mail: wlhas0614@163.com